5G Catalunya, one of the recipients of Red.es's pilot programme development grants, has overseen a demonstration of this new technology facilitated by the development of 5G networks
This use case was made possible by Cellnex, Masmovil, Aumenta Solutions, Lenovo and Nae, with the collaboration of Barcelona Activa
---
The 5G Catalunya pilot programme has developed and validated a use case of bidirectional holography applied to distance learning, an advanced technology based on the development of 5G networks. Cellnex, Masmovil, Aumenta Solutions, Lenovo and Nae, five of the eight partners of UTE 5G Catalunya, participated in this project with the collaboration of Barcelona Activa.
The demonstration took place at the Cibernàrium, Barcelona Activa's training and technology dissemination centre at Media TIC, with the participation of Red.es and partner company representatives.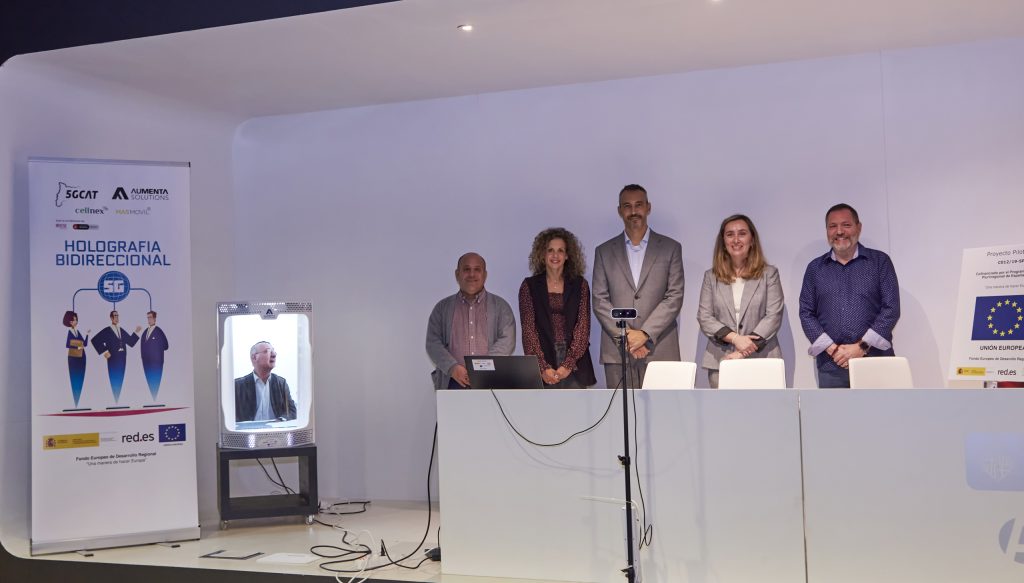 The bidirectional holographic solution validated by 5G Catalunya made it possible to volumetrically capture the image of a speaker at a remote point and reproduce it in 3D elsewhere via streaming across a private 5G network. The advantages of the innovative 5G technology —high speed and low latency— allow for an immersive two-way video and audio communication experience.
The volumetric system that is used to capture and broadcast the 3D image guarantees nearly real contact with the interlocutor, while the 5G network allows for virtually immediate bidirectional interaction between both remote points, with minimal latency.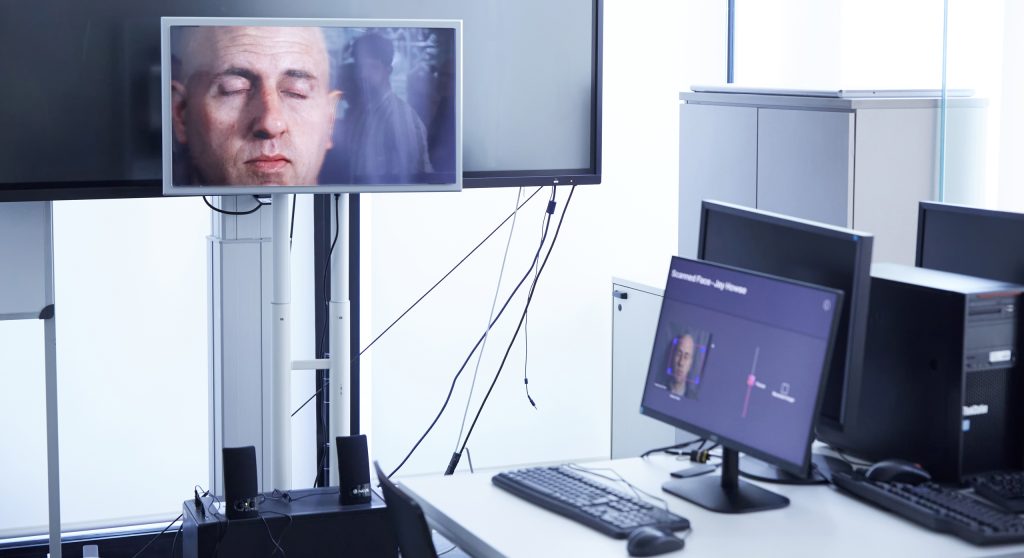 Ana Varela, head of the 5G Catalunya pilot programme and Open Innovation Programme Manager at Cellnex Telecom, highlighted the possibilities that this 5G network-based holographic solution offers to improve people's lives: "5G technology makes it possible to transmit large volumes of real-time data, which will enable us to experience immersive communication services, like connectivity through two-way holography, with a sense of presence and immediacy that will improve the quality of interaction over other forms of distance teaching or learning."
Javier Campos, CTO and CIO of Aumenta Solutions, which owns this use case, explained that "with this holographic solution, point-to-point volumetric representation marks a new way to see and understand things. The most important thing is that 5G technology and this use case open up many opportunities in other sectors, for example remote medicine or care for people at risk of exclusion, or industry."
Lara M. Rubianes, secretary of the 5G Pilot Monitoring Committee of the Red.es Digital Public Services Directorate, pointed out that "this use case to create a holographic support for distance learning environments is an example of the multiple real and sectorial applications of 5G, and fulfils its aim of testing the new technological capabilities of infrastructures and proposing innovative sectorial applications to boost emerging 5G ecosystems."
In the words of the Red.es representative, "designing the use cases together with the end users, which was one of the objectives of the call, allows us to gauge how mature and appropriate these solutions are before we develop any future new services."
"The solution provided by Aumenta Solutions and integrated into Lenovo Edge servers explores hologram capabilities and facilitates a high level of speaker immersion with remote meeting attendees", added Antonio Bocigas,Lenovo's EMEA Telco Director.
Sara Díaz, Director of Digital Talent at Barcelona Activa, pointed out that " Barcelona City Council's commitment to innovation and leadership in the technology sector has led us to this pioneering use of 5G technology and holograms to revolutionise training and open new business models for companies. Barcelona is the third most important European city in terms of digital innovation and, thanks to these and other implementations, the city is cementing its leadership as a tech capital."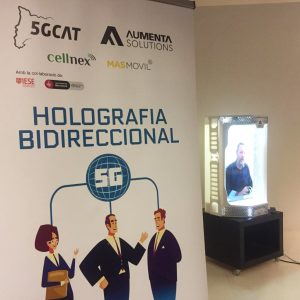 At the technical level
Cellnex provided the 5G access network infrastructure with stand-alone configuration to enable the required streaming connection between both remote points to roll out this demonstration.
Aumenta Solutions contributed volumetric capture technology. Specifically, Microsoft's Azure Kinect RGBD depth cameras were used to capture real-time volumetric models of people and the environment to be broadcast over the network and subsequently reconstructed three-dimensionally.
This solution involves streaming the captured image and the depth image from the point of emission, which enables volumetric reconstruction at the point of reception. Transmission from one point to another is facilitated by WebRTC with the support of WebSocket technology across MEC servers.
This point of the process was overseen by Cellnex. Image data were collected at two CPEs located one at each end. Each CPE was in turn connected to a 5G small-cell indoor radio unit, which receives the signal and transmits it via fibre optics to the MEC server in a Cellnex data-centre cabinet near the event location.
The success of the use case is also attributable to Lenovo and its ThinkEdge distributed processing technology, which fully exploits the capabilities of built-in Intel Xeon processors.
In essence, the technology uses edge architecture based on two-unit Lenovo SE450 servers integrated in street cabinets rather than dedicated IT rooms. This ensures close-to-data processing and makes it possible to create multipoint meetings between various locations.
For increased realism, the process relies on two types of viewing supports. First, auto-stereoscopic displays make it possible to view models in volume, with no need for additional hardware or 3D glasses. Second, content is displayed with encapsulated 2D screens with no back side, which, although flat, give a sense of depth.
About 5GCat
5G Catalunya was one of the winners of the second call for funds to develop 5G pilots that was launched in late 2019 by Red.es —an entity of the Ministry of Economic Affairs and Digital Transformation— within the National 5G Plan. The initiative is co-financed by the European Regional Development Fund (ERDF).
5G Catalunya is developed by a consortium of eight companies led by Cellnex Telecom and the Masmovil Group, along with Catalan operator Parlem Telecom, Aumenta Solutions, a company specialised in augmented reality for industry, engineering company Atos, Nae consultancy, technology company Lenovo and the Nearby Computing start-up, a spin-off of Barcelona Supercomputing Center. The project has the support of Mobile World Capital Barcelona.
The project consists of seven use cases to develop 5G-based solutions for urban environments, particularly in mobility, distance learning, the industrial sector, remote purchasing, audiovisual transmission, security and emergency management and connectivity in areas with high seasonal occupancy.
By performing these seven use cases, the aim is to drive digital transformation in distinct areas of people's lives, helping to consolidate the roll-out of a technological ecosystem that will undoubtedly act as a lever for social and economic development.