The 5G Catalunya pilot, one of the recipients of Red.es 5G pilot development grants, has performed a demonstration of a multi-camera television broadcast using a private 5G network
In addition to La Xarxa and betevé, Cellnex Telecom, Lenovo, Masmovil, Nae and TVU Networks also participated in this use case
---
The 5G Catalunya pilot has performed a demonstration of a use case for editing, producing and broadcasting a multi-camera television programme in the cloud using a private 5G network. La Xarxa, betevé, Cellnex Telecom, Lenovo, Masmovil, Nae and TVU Networks participated in this project.
The demonstration took place during the "btv notícies migdia" news programme at 1.30 p.m. today, Wednesday 21 December. The programme, broadcast from the studios of the public media outlet in Barcelona, included a live multi-camera connection from the Parque del Centro del Poblenou using 5G technology.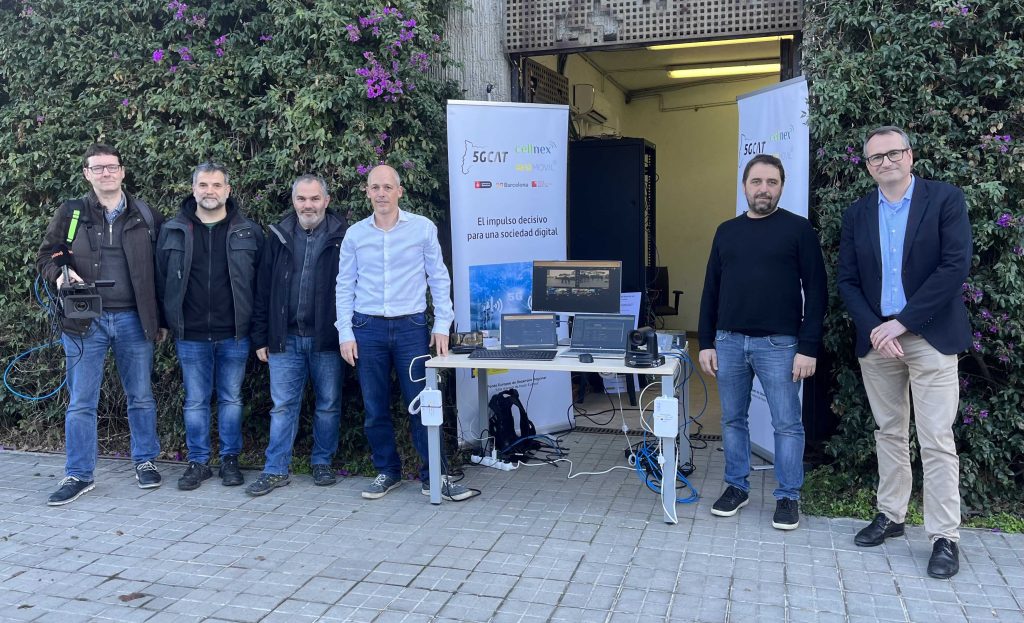 The project validated the usefulness of 5G private networks for multi-camera contributions. In this way, La Xarxa and betevé used the network of the 5G Catalunya project, made available by Cellnex, Lenovo and Masmovil, to simultaneously contribute and edit multiple live television camera signals in the cloud using the TVU Networks solution.
The remote production and contribution system provided by TVU Networks allows content to be received from various cameras and mobile phones and processed and edited in a cloud service for live broadcast or used later in a non-live format.
Specifically, the contents were served from a camera provided by betevé and from a robotic camera, as well as from several mobile phones, configuring a simultaneous contribution of up to five video signals.
The dongles provided by TVU Networks and the TVU Anywhere mobile application made it possible to synchronise the different cameras and contributions from mobile phones on the cloud server. Once in the cloud, the TVU Producer remote production system made it possible to select the screen composition and mix the signal from the various cameras. The content produced can then be distributed via the internet or social networks or can be downloaded from the cloud to the betevé studios to integrate it with the rest of the content in the broadcast via DTT.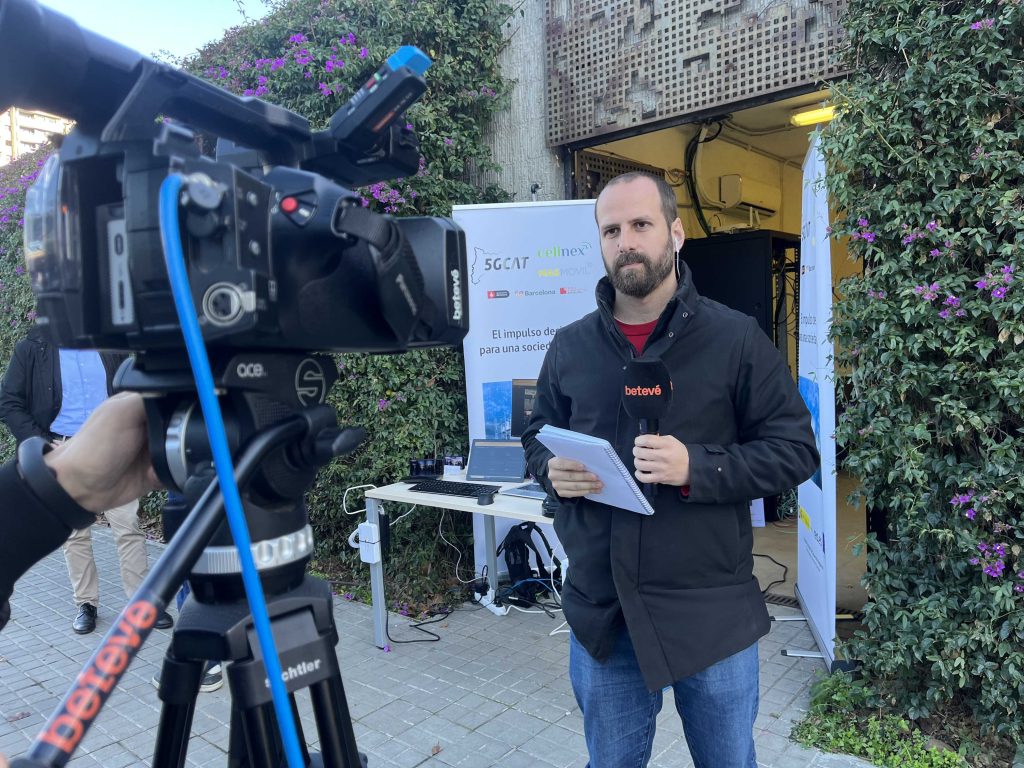 Dedicated 5G SA network and frequency
This demonstration using the network enabled by 5G Catalunya was made possible thanks to the following milestones:
dedicated network frequencies, different to those used by conventional mobile telephony, to avoid broadcasts being affected by possible congestion;
cloud production, which allows the programme to be produced even while teleworking;
low latency, which facilitates live interviews without signal delays and also allows robotic cameras to be controlled remotely;
high capacity, making it possible to simultaneously transmit five high-definition signals,
and the Open RAN open standard, which will lead to the democratisation of 5G networks.
The key is the use of dedicated frequencies and networks. The dedicated frequency was provided by Masmovil, while the 5G SA (Stand Alone) network was implemented by Cellnex on Lenovo servers using Open Ran technology.
The dedicated frequency and guaranteed network availability of the necessary spectrum to make good quality video contributions, even in high population density environments, making the service independent of possible congestion from commercial networks.
Furthermore, Lenovo's technology has made it possible to implement a 5G Open Ran network on generic-purpose servers. This is a milestone for the democratisation of the use of 5G Stand Alone networks by verticals such as the broadcasting sector.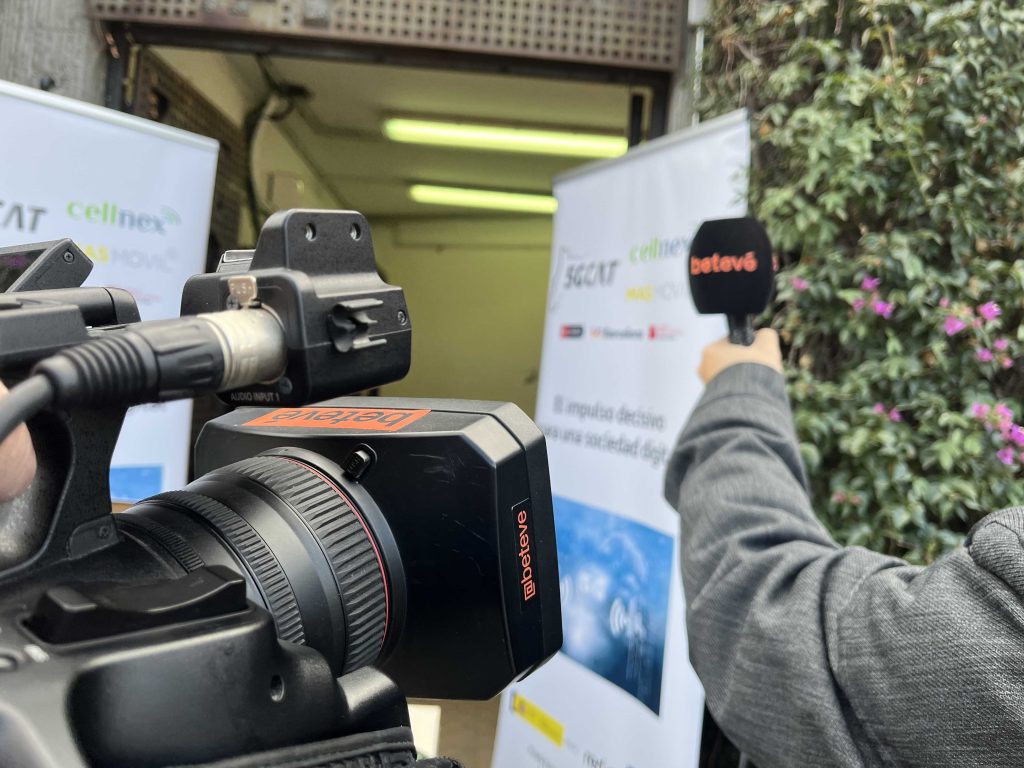 Technology for the human castle events
Cellnex Telecom's product manager Xavi Redón, who led this use case, underscored that "during the demonstration we were able to verify that the 5G network is able to transport various camera signals in HD resolution to the cloud, carrying the signal from these cameras from a different location using the remote production functionality, and finally delivering this content live with low latency."
Likewise, "the 5G Catalunya pilot has shown that recording and transmission through 5G terminals is a cheap and flexible resource, which provides sufficient quality for some of the connections that broadcasters need to perform", added Redon.
La Xarxa CEO Marc Melillas weighed up this technology: "5G private networks will allow us to use portable dongles to make contributions even in completely full squares or in areas where there is currently insufficient coverage. This technology will make it easier to make broadcasts that were complicated until now, such as at human castle events."
betevé director Sergi Vincent highlighted that "cloud implementation tools in combination with 5G private networks and contribution dongles provide extra flexibility and reliability, because there will be no need to worry about the availability of bandwidth during the event".
About 5GCat
The 5G Catalunya project was one of the winners of the second call for funds to develop 5G pilots launched at the end of 2019 by Red.es —an entity of the Ministry of Economic Affairs and Digital Transformation— within the National 5G Plan. The initiative is co-financed by the European Regional Development Fund (ERDF).
The 5G Catalunya project is developed by a consortium of eight companies led by Cellnex Telecom and the Masmovil Group, along with Catalan operator Parlem Telecom, Aumenta Solutions, a company specialised in augmented reality for industry, engineering company Atos, Nae consultants, technological company Lenovo and the Nearby Computing start-up, a spin-off of the Barcelona Supercomputing Center. In addition, the project enjoys the support of the Mobile World Capital Barcelona Foundation.
The pilot consists of seven use cases aimed at developing solutions based on 5G technology for urban environments, specifically in mobility, remote education, the industrial sector, remote purchasing, audiovisual transmission, security and emergency management, and connectivity in areas with a high seasonal occupancy.
The performance of these seven use cases is intended to promote digital transformation in different areas of people's lives, helping to consolidate the implementation of a technological ecosystem that will undoubtedly act as a lever for development both at social and economic level.
Participants in the demonstration
Xarxa Audiovisual Local (XAL) is the public company of the Barcelona Provincial Council whose objective is to manage support for the local Catalan audiovisual sector, responding to its needs and contributing to its revitalisation. It promotes the dynamics of cooperation and agreement, fosters production and co-production of content and offers advisory services. It brings together more than 50 TV stations and 150 local radio stations. It has an OTT platform with quality entertainment content accessible on demand and live.
betevé is Barcelona's public communication medium. With almost 30 years of history behind it, betevé guarantees universal access to quality content on all platforms where users consume content.
Lenovo is a $60 billion Fortune Global 500 company serving customers in 180 markets around the world. Focusing on a bold vision to deliver smarter technology for everyone, everywhere, Lenovo develops world-changing technologies by fostering (through devices and infrastructure) and empowering (through solutions, services and software) millions of customers every day and creating a more inclusive environment and a reliable and sustainable digital society.
Cellnex Telecom is the independent wireless telecommunications and broadcasting infrastructures operator that enables operators to access Europe's most extensive network of advanced telecommunications infrastructures on a shared-use basis, helping to reduce access barriers for new operators and to improve services in the most remote areas.
The Masmovil Group is the Iberian telecommunications operator with the fastest growth in Spain. With more than 14 million customers, it has seven main national brands: Yoigo, MásMóvil, Pepephone, Llamaya, Lebara, Lycamobile and Virgin Telco.
Nae is a consultancy specialising in complex telecommunications projects that works with the main operators and players in the Spanish telco market. In the use cases of the 5GCat pilot, it is responsible for managing the project, providing support to the members of the joint venture and especially to project management, through planning, governance, risk and quality management.
TVU Networks is a leader in high-resolution live video solutions and works for more than 3,000 companies around the world, including the most important international television channels.