New mobile technology and augmented reality glasses make it possible to shop at La Boqueria market from home without missing a single detail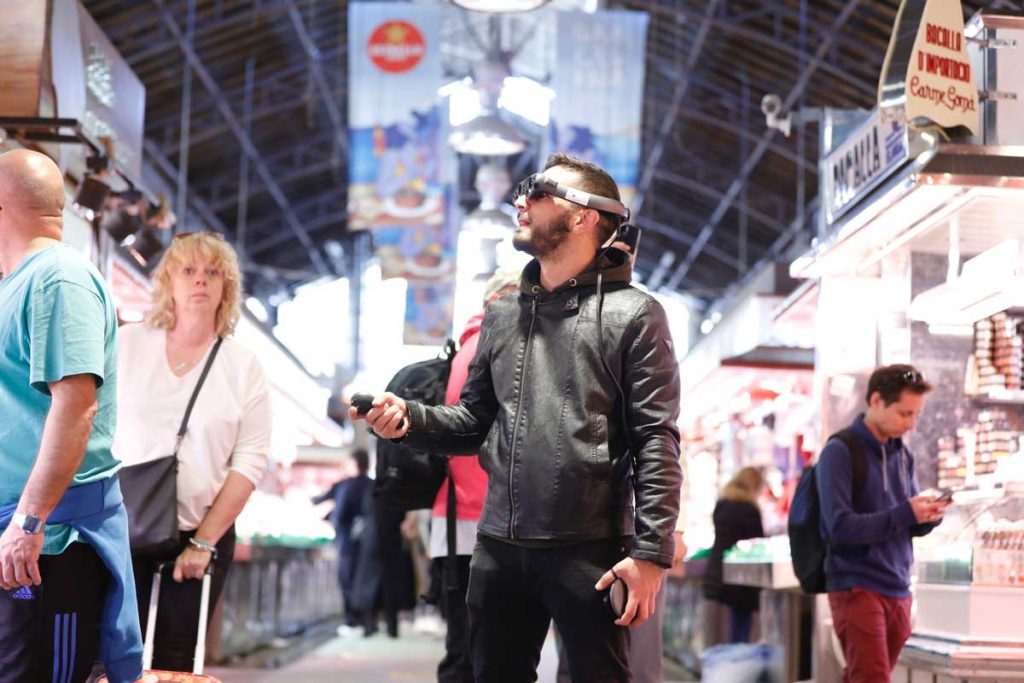 Visiting a market is a real feast for the senses. It is a multisensory experience that combines tradition with human contact and especially involves a series of decisions about which products to choose for your shopping basket. How will we go to market in the future? How can a world so rich in sensations be transferred to the virtual sphere? How will we choose what we want if we don't have time to go on-site and ask about the prices and qualities of the goods?
The iconic La Boqueria market in the centre of Barcelona, with its wide range of fresh products, is already providing some answers. The market is the setting for a demonstration of how 5G technology, supported in this case by augmented reality, can transform processes, opening them up to new possibilities.
To reliably know what you are buying remotely, you need to see the products as if you were buying them face-to-face and you need to interact live with the people selling them. But how can this be done remotely? In fact, the process is quite simple and involves what is known as a personal shopper equipped with augmented reality glasses and Artificial Intelligence (AI), both of which are set up to identify the different wares and their prices. All information is sent on-line ultra-fast to the virtual buyer, who experiences everything that is happening live on their screen as if they were actually there. This is achieved using an application called Augmented Reality Personal Shopper which allows them to select the specific products from the market stalls and obtain additional information, also using augmented reality.
This is the futuristic miracle that brings to life a combination of the ultra-fast speed of new mobile technology, Artificial Intelligence (AI), the Internet of Things and edge computing, which allows all data to be managed nearby. A combination of various technologies can thus offer the virtual user an immersive shopping experience equivalent to a face-to-face purchase in a crowded market, opening the door to a revolution in the form of virtual relationships with traditional businesses. This is a complete disruption that can change how we interrelate with the huge commercial offer available in our cities.
Test at an olive stall
This journey to the future constitutes the first use case of the 5G Cataluña pilot. The minimum latency of 5G (which guarantees a seamless connection) and the large bandwidth that it involves is one of the keys to the project, which is being conducted at Olives Francesc, a stall selling olives and other traditional products that was founded in 1947. This opens the door to providing remote and direct sales as a complementary possibility in all types of establishments.
This test is made possible by the 5G network designed and deployed by Cellnex Telecom and the edge computing solutions from Lenovo. This network, the only one in Barcelona entirely using 5G —a concept known as standalone—, will remain installed in the city once the use case has ended. 5G access cell radio equipment has been set up inside La Boqueria to receive the signal, which it then transmits via optical fibre to a facility located in the Municipal Parks and Gardens Institute of Barcelona, which acts as a data centre and processes the signal to connect it to the local Cellnex server located in the same place. The Augmented Reality Personal Shopper application has been promoted by the Catalan operator Parlem Telecom, which is coordinating the pilot test, in collaboration with the i2CAT Foundation, which designed and developed it.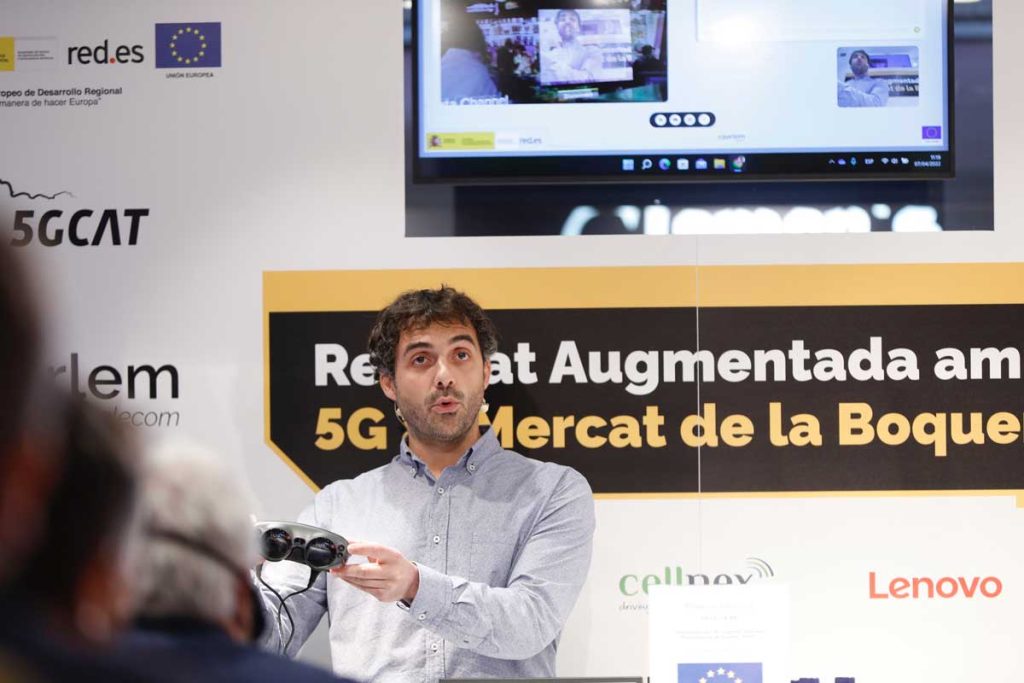 The initiative in the Barcelona market comprises the first test performed of the 5G Cataluña pilot promoted by Red.es, a public business entity attached to the Ministry of Economic Affairs and Digital Transformation, through the State Secretariat for Digitalisation and Artificial Intelligence. The pilot is being developed by a consortium of eight companies led by Cellnex Telecom and the MASMOVIL Group, along with Catalan operator Parlem Telecom, Increase Solutions, a company specialised in augmented reality for industry, engineering company Atos, Nae consultants, technological company Lenovo and the Nearby Computing start-up, a spin-off of the Barcelona Supercomputing Center.
Markets will always thrive on in-person shoppers and visitors, but now 5G offers a complementary channel to make life easier for all of us. It is the embryo of a new way of shopping. Tradition and future together.